Contribute to the preservation of the environment
Now is possible to decontaminate drug packaging at home +simple +sustainable +green
Listen to the text
Stop the audio
We believe in broad development and always seek economic, social and environmental balance. Reusing water, renewable energy, recycling, citizenship and education are some of our commitments.
We are committed in the areas of education, culture and sports, citizenship, environment, among other segments. We are a benchmark in the sector and recognized for our commitment in daily corporate life to adopt business practices based on ethical and responsible values in the social and environmental areas. An example of this is the recognition we achieved for the four time from Exame Sustainability Guide as the most sustainable company in the pharmaceutical industry.
The journey in search of best practices has often led the company to anticipate the laws, acting ahead of the targets set for the sector ("Commitment and demands to build the future we want", document organized by the Ethos Institute during Rio+20).
A constant focus on sustainable development is one of the strategic pillars in our commitment to the future of coming generations. Ranging from small to great attitudes and causes, the company builds and solidifies foundations on a daily basis that are in synergy with its values and ideals of sustainability and social responsibility.
We are signatories of the UN Global Compact, a natural consequence of the company's actions taken over the last decade since the creation of its first Sustainability Master Plan. We are also part of the Ethos Institute's benchmarking group, which is comprised of a small number of companies that scored the highest in the renowned institution's assessment. In partnership with this Institute, we instituted the Sustainability in the Value Chain program, a pioneering attitude among pharmaceutical companies in Brazil, with the objective of evaluating and monitoring the good practices of our direct input suppliers.
Learn about our sustainable trajectory (Portuguese content)
Learn about our sustainable trajectory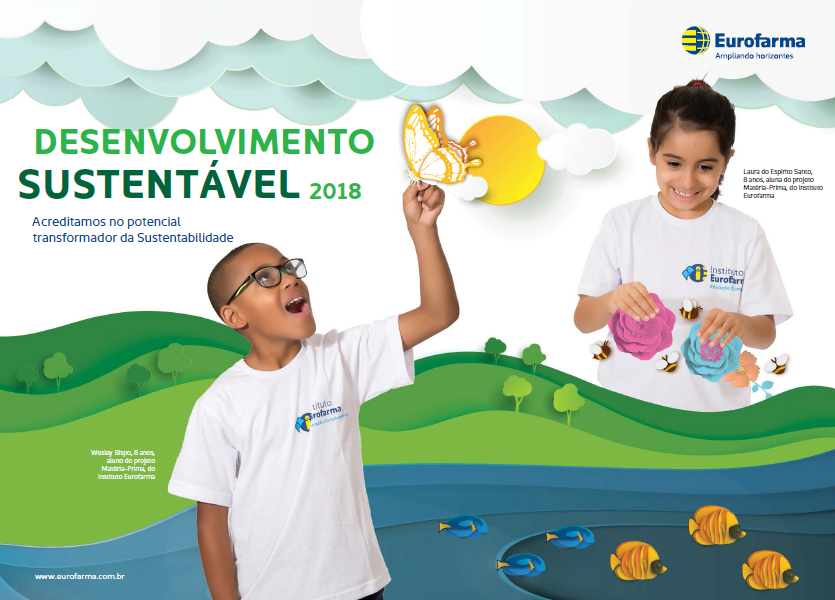 The Sustainable Development Booklet contains the main actions performed in 2018 in the economic, social and environmental spheres, with comparative data and testimonials that illustrate the impact on society. Always look to the future considering actions that can start generating transformation now – the company believes in this commitment to future generations. With this vision, Eurofarma strives for the complete development of society, with economic, social and environmental balance.
Click here and enjoy your reading! (Portuguese content)